Rencontre avec S.E. M. Reuven Rivlin
Rencontres
Cette semaine à Berlin, le président du CCOJB a présenté au Président de l'Etat d'Israël Reuven Rivlin un Yad symbolisant le leadership.
***
World Jewish Congress presents Israeli President Rivlin with a ritual Torah pointer
Senior leadership of the World Jewish Congress including members of its Executive Committee met with Israeli President Reuven Rivlin in Berlin earlier this week.
Yohan Benizri, WJC Vice President, member of the WJC Jewish Diplomatic Corps, and President of the Belgian Federation of Jewish Organizations (CCOJB), presented to President Rivlin a yad, a Jewish ritual pointer for reading the Torah, designed by Mr. Benizri himself.
During the meeting, President Rivlin expressed his concerns about the antisemitism Jewish communities face and promised to continue working together according to the Talmudic phrase "All Jews are responsible for one another."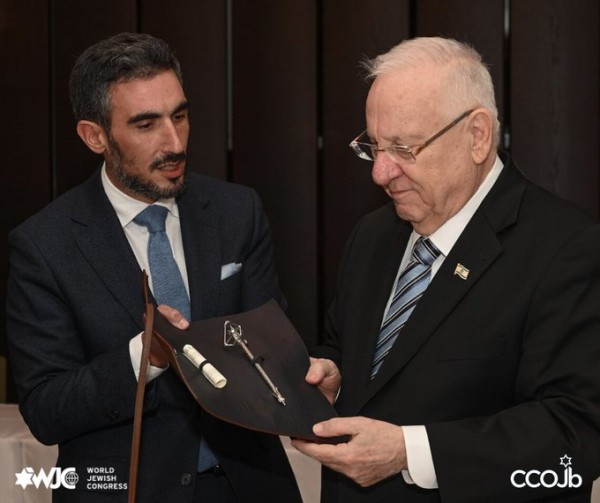 Photo: Shahar Azran.